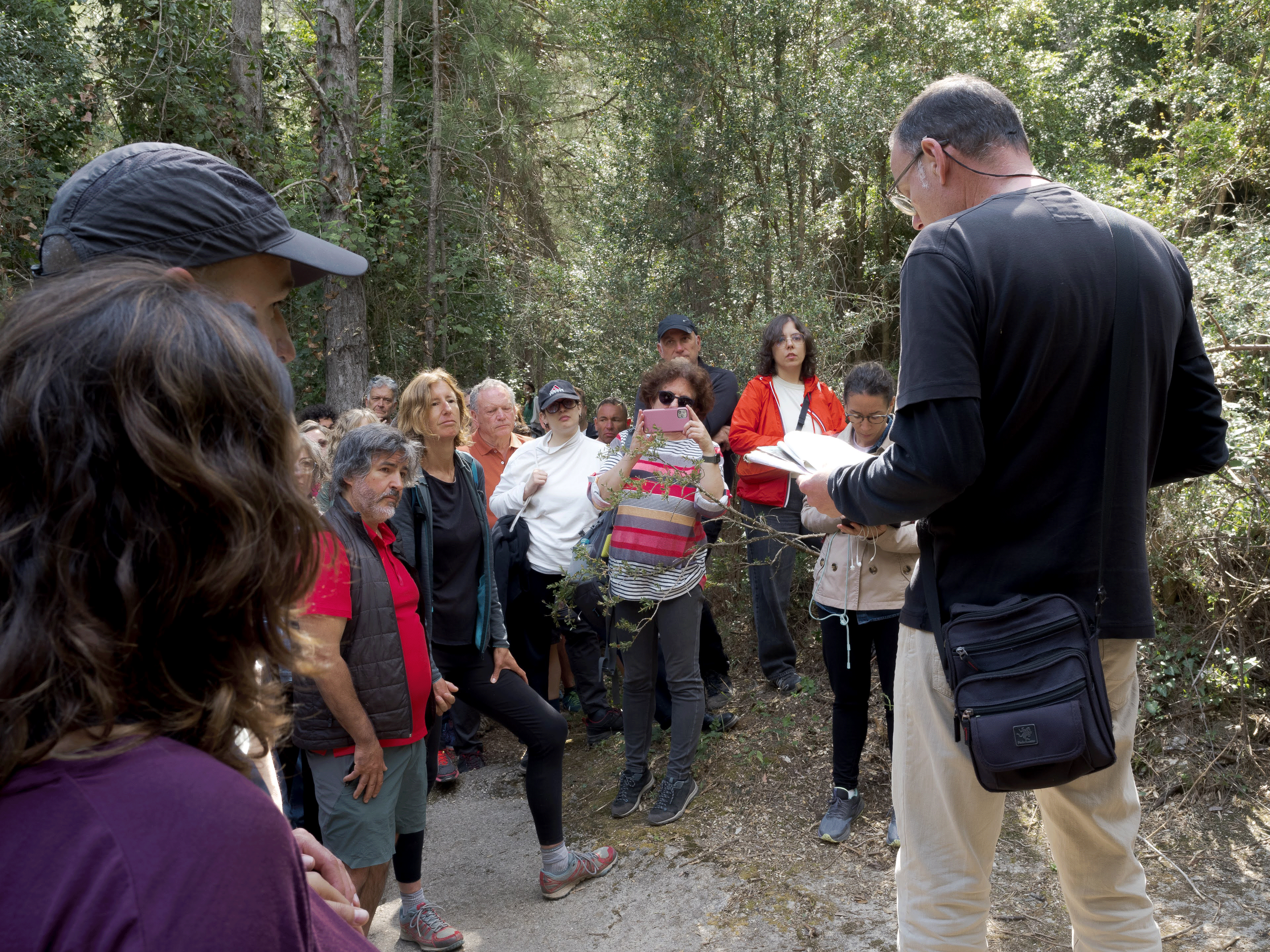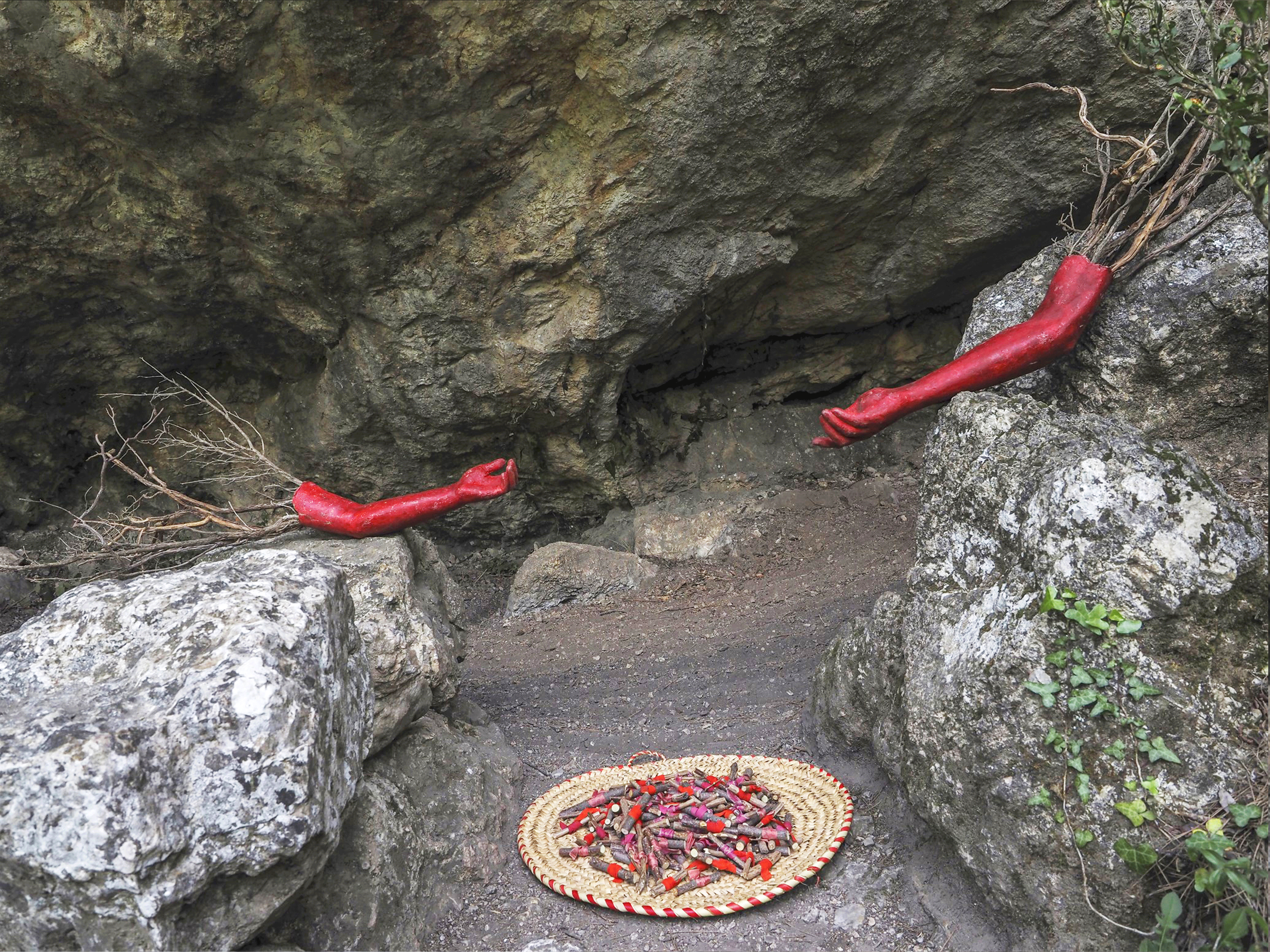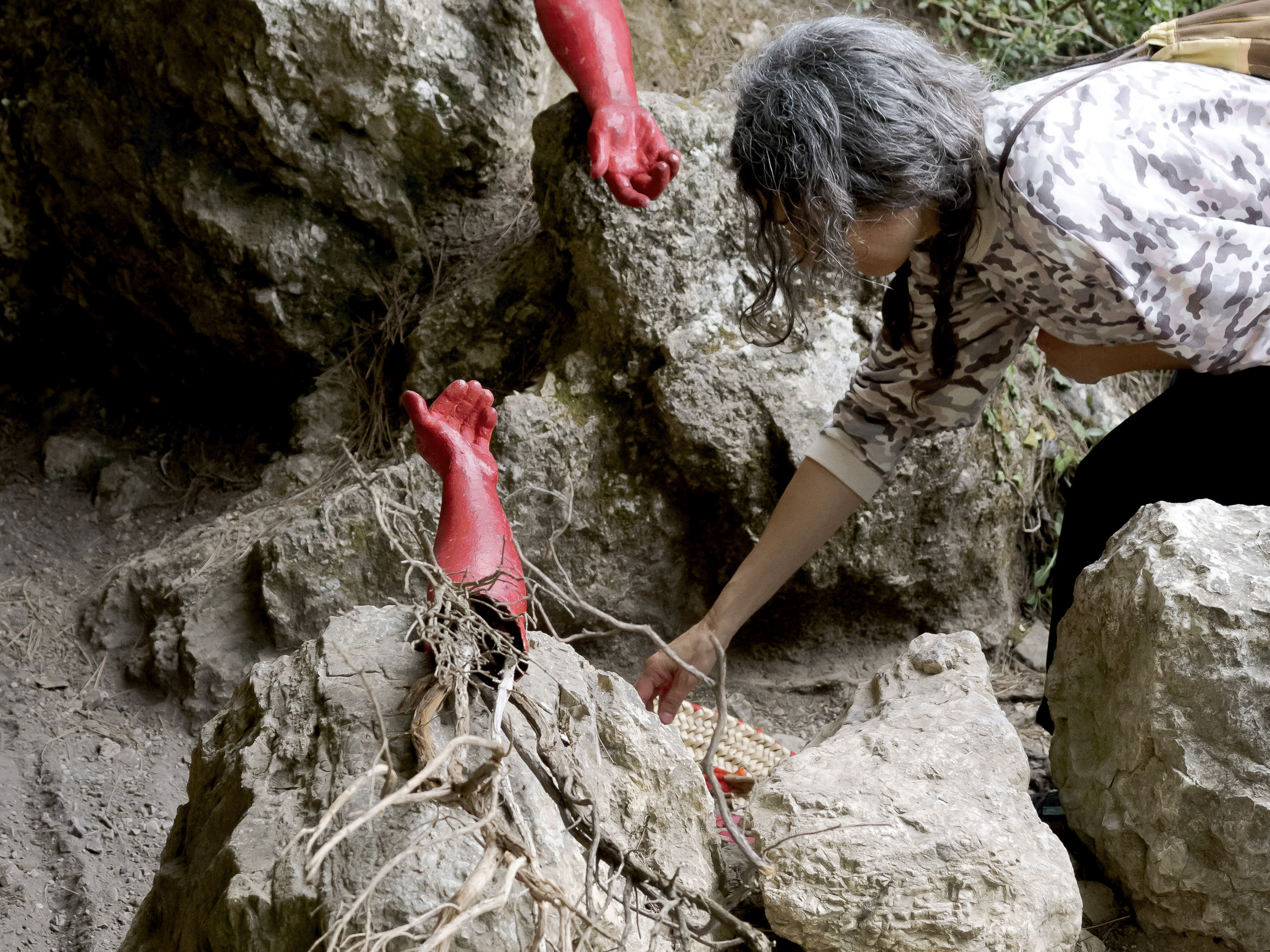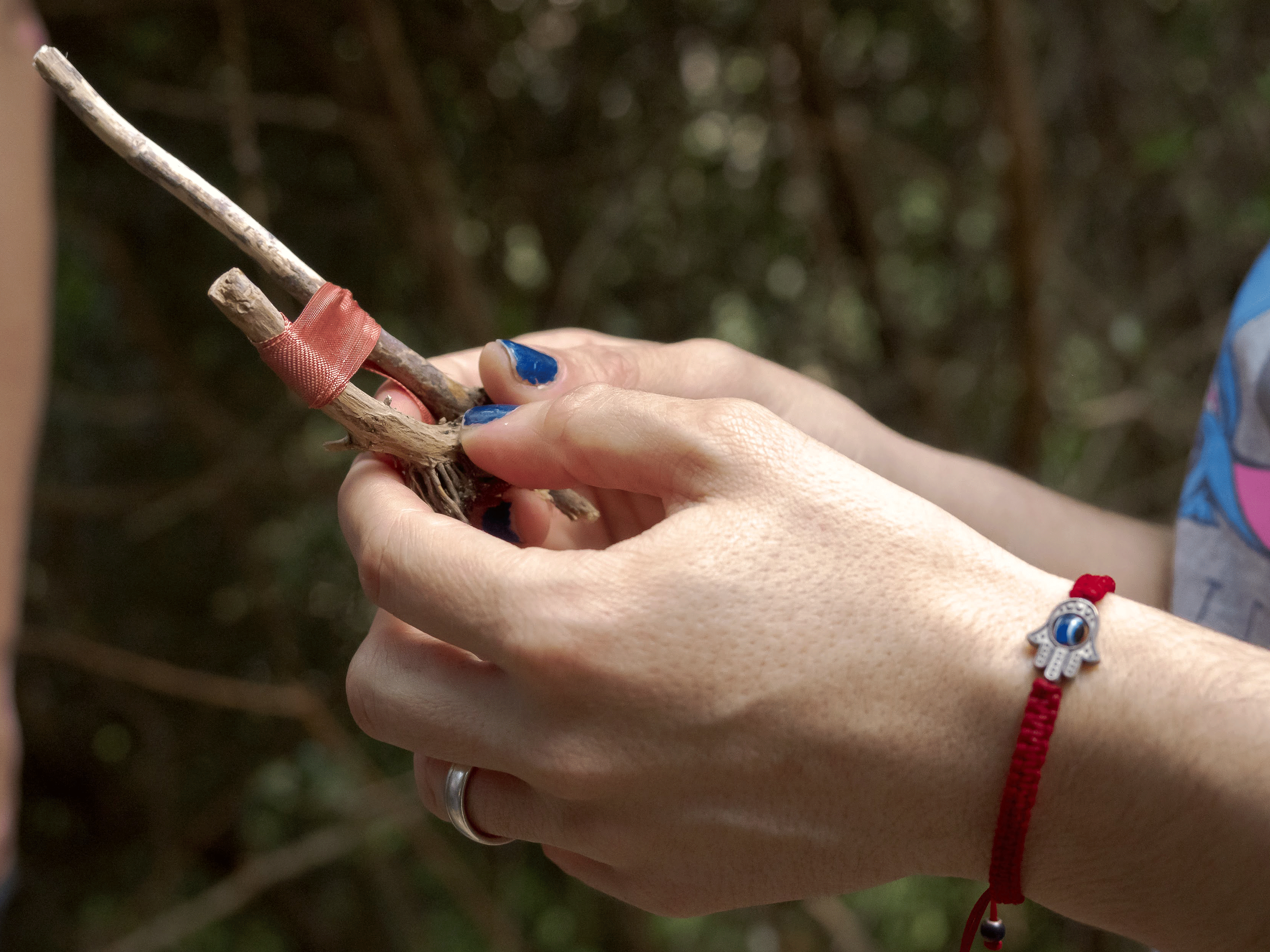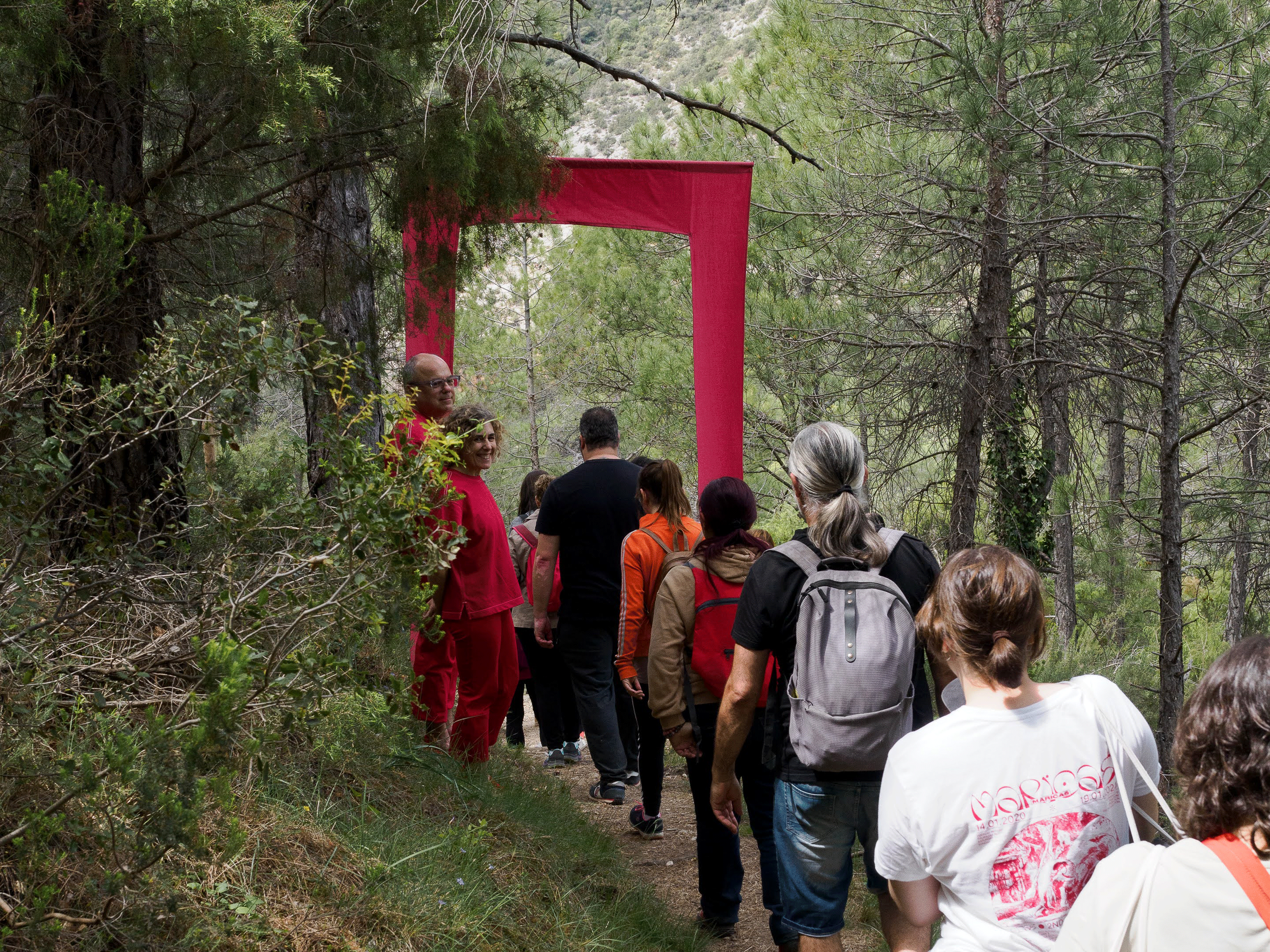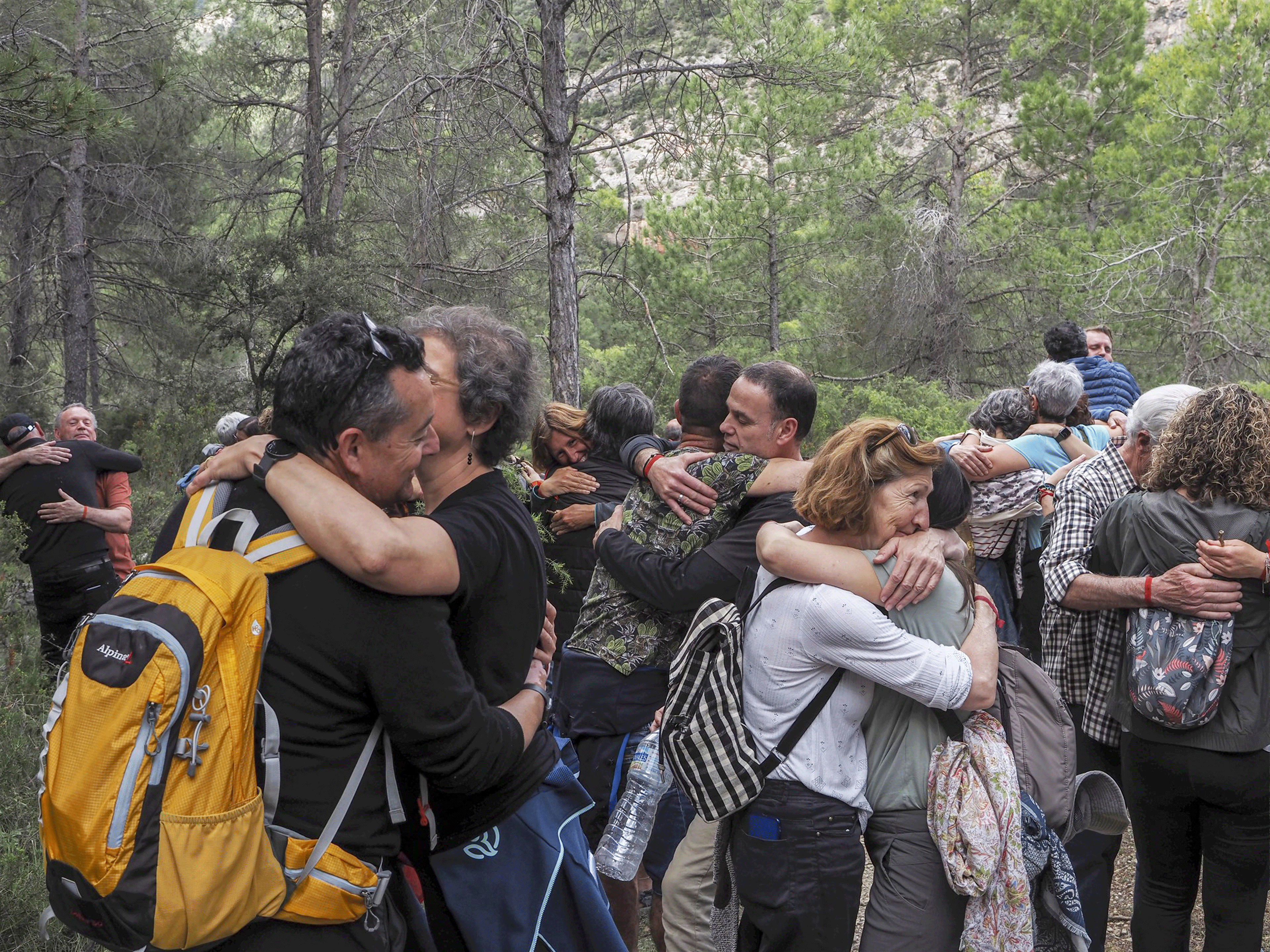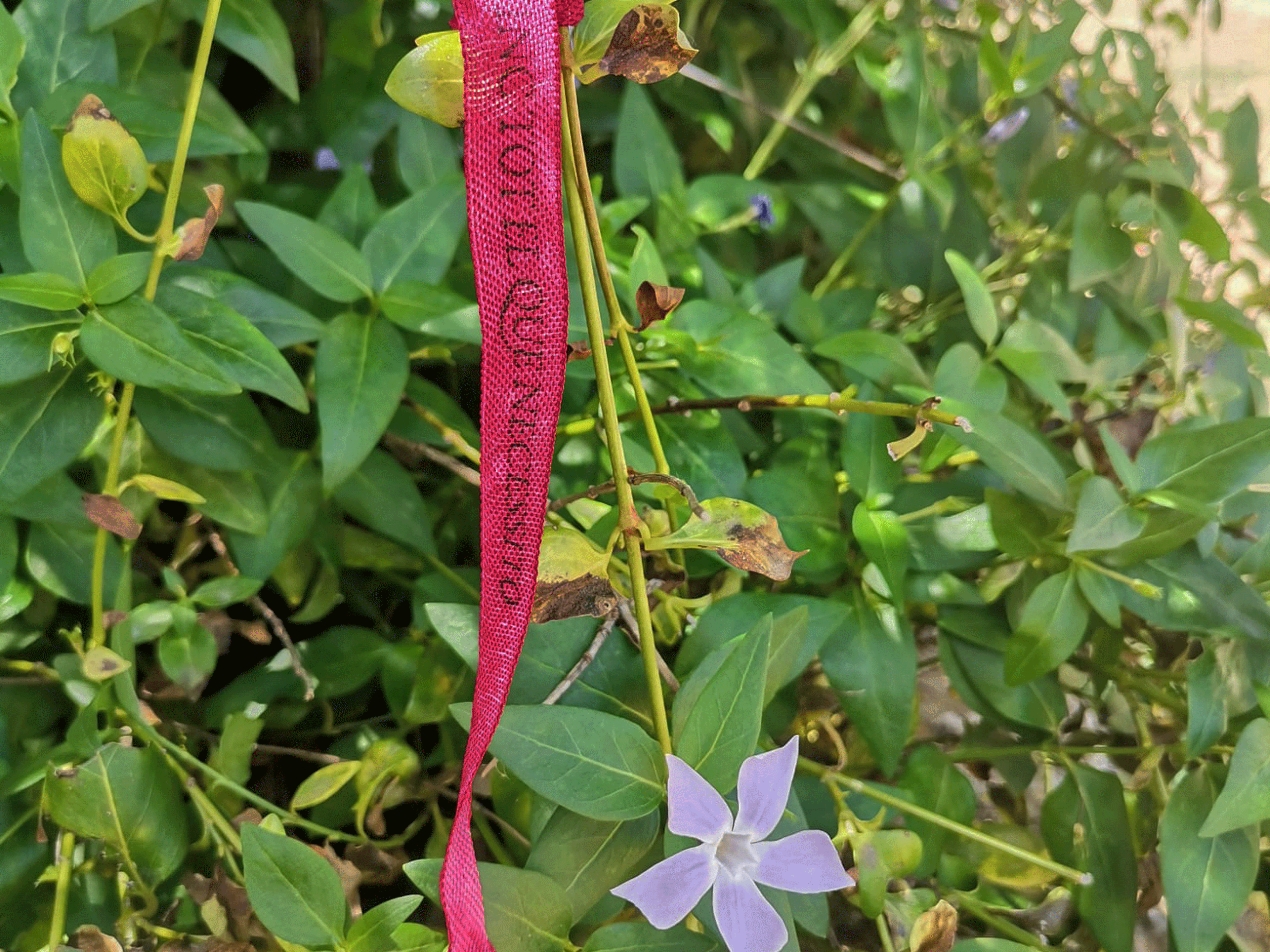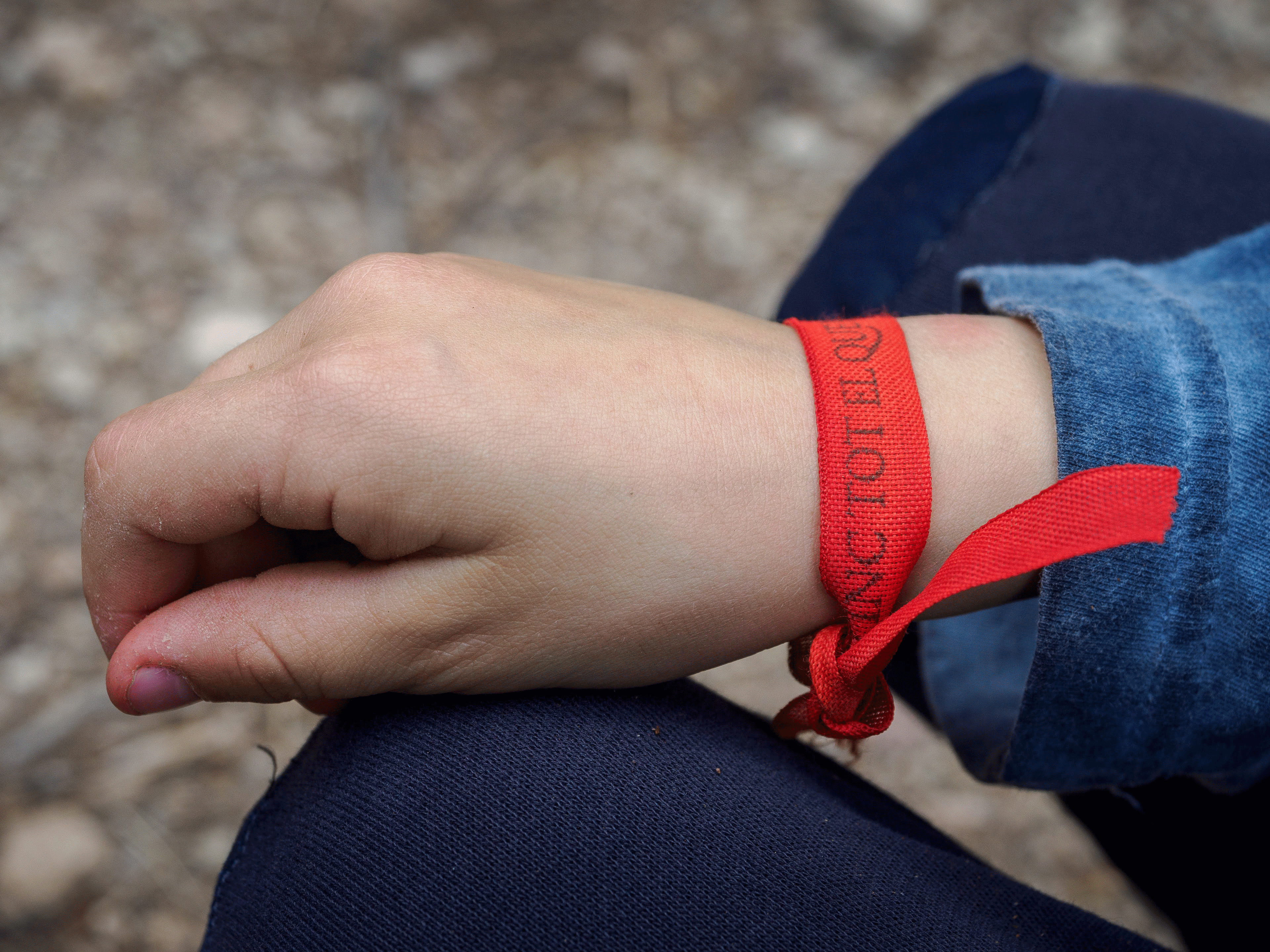 (CAT)
MULADHARA és el happening amb el que vam participar a la vuitena edició d'Els Ports, Natura i Art, organitzat per Sergi Quiñonero des del Centre d'Art Lo Pati a Horta de Sant Joan (Tarragona). A Horta de Sant Joan vam tenir casa i estudi durant gairebé 20 anys. Per això, per a nosaltres aquesta acció té un sabor molt especial, perquè ens connecta a les nostres arrels, a la terra, al lloc, a les persones i a la nostra interioritat. Aquí vam iniciar un cicle de performances entorn als set xacres amb Manipura. La resta els vam anar performant a Girona, Barcelona, Istambul, Les Escaules i La Bisbal; i aquí hem tancat aquest cicle, a pocs metres d'on va començar, en plena natura dels Ports, en un lloc realment màgic. Aquest darrer xacra performat és en realitat el primer xacra de la seqüència del Cos subtil: el xacra arrel, anomenat Muladhara.

Muladhara es va fer en dos parts i en dos espais diferents: els Ullals de Morago i el forn de calç, al final del recorregut. Els dos llocs són cavitats de la terra: una cova i un forat. El xacra Muladhara és el que ens connecta a la terra i ens arrela, per això vam triar aquest dos punts. Per accedir als dos indrets vam situar dos portes, dos llindars que, com els Torii japonesos, ens conviden a entrar en un espai sagrat, una zona de respecte absolut i una vivència més profunda del lloc. Travessar el llindar és una invitació a una actitud més conscient i reverencial. Quan els travessem fem dos coses: guardem la paraula, sentim el lloc i el més important: li demanem permís a la terra per fer la nostra performance.

Cadascun dels set xacres té un color. El de Muladhara és el vermell. Per això tant els llindars, la nostra indumentària i cadascun dels elements de l'acció són vermells, evocant el color del xacra i el foc de l'interior de la terra.

1a part: Els Ullals de Morago
Els participants van travessar el primer llindar per pujar fins a la cova i viure el lloc des de la seva vessant tel·lúrica, contemplant-lo amb aquesta mirada i no com a indret turístic. Actualment, aquest indret és molt més conegut com a "Cova de Picasso" que com a "Ullals de Morago". Aquí l'artista hi va fer una llarga estada de connexió amb el paisatge, amb el seu amic Pallarès, quan era jove i desconegut. Aquesta dada gairebé "hagiogràfica" ha eclipsat el fet que la cova dels Ullals de Morago era un refugi per als pastors propera a una font de subministrament d'aigua per al poble d'Arnes (La paraula ullal —ull d'aigua— fa referència a la sortida d'aigua subterrània en aquest tipus de topografia).

Allà els participants connectaven sensorialment amb la terra des del contemplar i després recollien un objecte que els regalava la cova: un branquilló amb una cinta. El van guardar amb cura perquè anava lligat al happening final al forn de calç, on nosaltres els esperàvem.

2a part: el forn de calç
En arribar al lloc esperàvem els participants per a explicar breument la dinàmica del happening. En aquesta segona part ens vam connectar a la terra des del sentir. Els participants s'havien de deixar portar unint-se a nosaltres per les paraules, sons i moviments que nosaltres anàvem fent evolucionar. La seqüència del happening era: sentir el lloc per primer cop, tancar els ulls i escoltar, respirar i finalment trobar l'altre i abraçar. Els senyals acústics d'un bol tibetà indicaven els canvis d'acció.

Al final de la seqüència, vam desfer el nus de la cinta del branquilló que havíem recollit a la cova dels ullals. Era una cinta–polsera amb un dels principals mantres del primer xacra: TINC TOT EL QUE NECESSITO. Però no podem fer el nus d'una polsera amb una sola mà, necessitem l'altre per posar-nos-la. Cadascú s'apropava a una persona i l'ajudava a posar la polsera. Finalment vam tancar la vivència amb una abraçada conscient (no menys de vint segons) amb aquella persona que ens havia ajudat. Aquesta segona part del happening ens duia a l'experiència d'inter-ser amb l'altre i amb la terra.

Quan esperàvem el primer grup de participants ens va estar acompanyant una guineu durant una bona estona; un regal de natura que ens va fer sentir en comunió amb el lloc vivint-lo com a part de nosaltres mateixos i nosaltres del lloc. Els textos que al llarg del happening anàvem proclamant és un collage de versos de T.S.Eliot, Mireille Gansel, Antoni Clapés i Asunción + Guasch:

∞))))))) sentir
NO DEIXAREM MAI D'EXPLORAR I AL FINAL ARRIBAREM AL LLOC D'ON HAVÍEM SORTIT I EL DESCOBRIREM PER PRIMER COP.

∞))))))) tancar els ulls escoltar
ESCOLTA A CAU D'ORELLA ELS ARBRES DE LES NOSTRES TERRES DE L'ÀNIMA

∞))))))) connectar respirar
SER ARBRE AMB ELS ARBRES, ARREL AMB LES ARRELS DELS ARBRES, OCELL AMB ELS OCELLS, GUINEU AMB LES GUINEUS I TERRA AMB LA TERRA

∞))))))) abraçar
UN NOU CLAREJAR EM NEIX, UN NOU POEMA. UNA NOVA LLENGUA AMB LA QUAL DIR-TE.

TINC TOT EL QUE NECESSITO
(ESP)
MULADHARA
es el happening con el que participamos en la octava edición de Els Ports, Naturaleza y Arte, organizado por Sergi Quiñonero desde el Centro de Arte Lo Pati en Horta de Sant Joan (Tarragona). En Horta de Sant Joan tuvimos casa y estudio durante casi 20 años. Por eso, para nosotros esta acción tiene un sabor muy especial, porque nos conecta a nuestras raíces, a la tierra, al lugar, a las personas y a nuestra interioridad. Aquí iniciamos un ciclo de performances en torno a los siete chakras con
Manipura
.
El resto los fuimos performando en Girona, Barcelona, Estambul, Les Escaules y La Bisbal; y aquí hemos cerrado este ciclo, a pocos metros de donde empezó, en plena naturaleza de Els Ports, en un lugar realmente mágico. Este último chakra performado es en realidad el primer chakra de la secuencia del
Cuerpo sutil
: el chakra raíz, llamado
Muladhara.

Muladhara
se realizó en dos partes y en dos espacios diferentes: la cueva
Ullals de Morago
y el horno de cal, al final del recorrido. Ambos sitios son cavidades de la tierra: una cueva y un gran agujero. El chakra
Muladhara
es el que nos conecta a la tierra y nos arraiga, por eso elegimos estos dos puntos. Para acceder a ambos lugares situamos dos puertas, dos umbrales que, como los Toriijaponeses, nos invitan a entrar en un espacio sagrado, una zona de respeto absoluto y una vivencia más profunda del lugar. Atravesar el umbral es una invitación a una actitud más consciente y reverencial. Cuando los atravesamos hacemos dos cosas: guardamos la palabra, sentimos el lugar y lo más importante: le pedimos permiso a la tierra para realizar nuestra performance.
Cada uno de los siete chakras tiene un color. El de
Muladhara
es el rojo. Por eso, tanto los umbrales como nuestra indumentaria y cada uno de los elementos de la acción son rojos, evocando el color del chakra y el fuego del interior de la tierra.
1ª parte: Ullals de Morago
Los participantes cruzaron el primer umbral para subir hasta la cueva y vivir el lugar en su vertiente telúrica, contemplándolo con esta mirada y no como lugar turístico. Este sitio es muy conocido actualmente como la "Cueva de Picasso" y no tanto como "Ullals de Morago". Aquí el artista realizó una larga estancia de conexión con el paisaje, con su amigo Pallarès, cuando era joven y desconocido. Este dato casi "hagiográfico" ha eclipsado el hecho de que la cueva Ullals de Morago era un refugio para los pastores cercana a una fuente de suministro de agua para el pueblo de Arnes (La palabra
ullals
—ojo de agua— se refiere a la salida de agua subterránea en este tipo de topografía).
Allí los participantes conectaban sensorialmente con la tierra desde la acción de contemplar y después recogían un objeto que les regalaba la cueva: una ramilla con una cinta. Lo guardaron con cuidado porque iba ligado al happening final en el horno de cal, donde nosotros les esperábamos.
2ª parte: Horno de cal
Al llegar al lugar, esperábamos a los participantes para explicar brevemente la dinámica del happening. En esta segunda parte nos conectamos con la tierra desde la acción de sentir. Los participantes debían dejarse llevar uniéndose a nosotros por las palabras, sonidos y movimientos que nosotros íbamos haciendo evolucionar. La secuencia del happening era: oír el lugar por primera vez, cerrar los ojos y escuchar, respirar y finalmente encontrar al otro y abrazar. Las señales acústicas de un cuenco tibetano indicaban los cambios de acción.
Al final de la secuencia, deshicimos el nudo de la cinta de la ramilla que habíamos recogido en la cueva del Els Ullals. Era una cinta-pulsera con uno de los principales mantras del primer chakra: TENGO TODO LO QUE NECESITO. Pero no podemos hacer el nudo de una pulsera con una sola mano, necesitamos a otro para ponérnosla. Cada uno se acercaba a una persona y le ayudaba a poner la pulsera. Finalmente cerramos la vivencia con un abrazo consciente (no menos de veinte segundos) con aquella persona que nos había ayudado. Esta segunda parte del happening nos llevaba a la experiencia de inter-ser con el otro y con la tierra.
Cuando esperábamos el primer grupo de participantes nos estuvo acompañando un zorro durante un buen rato; un regalo de naturaleza que nos hizo sentir en comunión con el lugar viviéndolo como parte de nosotros mismos y nosotros del lugar. Los textos que a lo largo del happening íbamos declamando son un collage de versos de TS Eliot, Mireille Gansel, Antoni Clapés y Asunción + Guasch:
∞))))))) sentir
NO DEJAREMOS NUNCA EXPLORAR Y AL FINAL LLEGAREMOS AL SITIO DE DONDE HABÍAMOS PARTIDO Y LO DESCUBRIREMOS POR PRIMERA VEZ.


∞)))))))
cerrar los ojos escuchar
ESCUCHA A CAE DE OREJA LOS ÁRBOLES DE NUESTRAS TIERRAS DEL ALMA


∞))))))) conectar respirar

SER ÁRBOL CON LOS ÁRBOLES, RAÍZ CON LAS RAÍCES DE LOS ÁRBOLES, PÁJARO CON LOS PÁJAROS, ZORRO CON LOS ZORROS Y TIERRA CON LA TIERRA


∞))))))) abrazar

UN NUEVO CLAREAR ME NACE, UN NUEVO POEMA. UNA NUEVA LENGUA CON LA QUE DECIRTE.
TENGO TODO LO QUE NECESITO

(ENG)
MULADHARA is the happening with which we participated in the eighth edition of Ports, Nature and Art, organized by Sergi Quiñonero from the Lo Pati Art Center in Horta de Sant Joan (Tarragona). We had a home and studio in Horta de Sant Joan for almost 20 years. That is why, for us, this action has a very special flavor, because it connects us to our roots, to the land, to the place, to the people and to our interiority. Here we started a cycle of performances around the seven chakras with
Manipura
. The rest we performed in Girona, Barcelona, Istanbul, Les Escaules and La Bisbal; and here we have closed this cycle, a few meters from where it began, in the middle of nature in Els Ports, in a truly magical place. This last chakra performed is actually the first chakra in the sequence of the
Subtle Body
: the root chakra, called Muladhara.
Muladhara was made in two parts and in two different spaces: the cave Ullals de Morago and the lime kiln, at the end of the route. Both places are cavities in the earth: a cave and a big hole. The Muladhara chakra is what connects us to the earth and roots us, which is why we chose these two points. To access the two places we placed two doors, two thresholds that, like the Japanese Torii, invite us to enter a sacred space, a zone of absolute respect and a deeper experience of the place. Crossing the threshold is an invitation to a more conscious and reverent attitude. When we cross them, we do two things: we keep our word, we feel the place and most importantly: we ask the earth for permission to play our performance.
Each of the seven chakras has a color. Muladhara's is the red one.Therefore, both the umbrellas and our clothing and each one of the elements of the action are red, evoking the color of chakra and fire from the interior of the earth.
Part 1: The cave Ullals de Morago
The participants crossed the first threshold to go up to the cave to experience the place from its telluric side, contemplating it with this view and not as a tourist spot. This place is currently well known as "
Cova de Picasso
" (Picasso's cave) and not so much as "
Ullals de Morago
". Here the artist spent a long time connecting with the landscape, with his friend Pallarès, when he was young and unknown. This almost "hagiographic" fact has overshadowed the fact that the Ullals de Morago cave was a refuge for shepherds close to a source of water supply for the town of Arnes (The catalan word ullal - eye of water - refers to the groundwater outlet in this type of topography).
There the participants connected sensorially with the earth through contemplation and then collected an object given to them by the cave: a twig with a ribbon. They kept it carefully because it was tied to the final happening in the lime kiln, where we were waiting for them.
2nd part: The lime kiln
When we arrived at the place we waited for the participants to briefly explain the dynamics of the happening. In this second part we connected to the earth through feeling. The participants had to let themselves be carried away by the words, sounds and movements that we were evolving. The sequence of the happening was: feel the place for the first time, close your eyes and listen, breathe, and finally find the other and embrace. Acoustic signals from a Tibetan bowl indicated action changes.
At the end of the sequence, we untied the ribbon knot from the twig we had collected in the cave. It was a bracelet-band with one of the main mantras of the first chakra: I HAVE EVERYTHING I NEED. But we can't tie a bracelet with only one hand, we need the other to put it on. Each one approached a person and helped him put on the bracelet. Finally, we closed the experience with a conscious hug (no less than twenty seconds) with that person who had helped us. This second part of the happening led us to the experience of inter-being with the other and with the earth.
When we were waiting for the first group of participants, a fox was accompanying us for a long time; a gift of nature that made us feel in communion with the place by living it as a part of ourselves and we of the place. The texts that we were proclaiming throughout the happening are a collage of verses by T.S. Eliot, Mireille Gansel, Antoni Clapés and Asunción + Guasch:
∞)))))) feel

WE SHALL NOT CEASE FROM EXPLORATION. AND THE END OF ALL OUR EXPLORING. WILL BE TO ARRIVE WHERE WE STARTED. AND KNOW THE PLACE FOR THE FIRST TIME.


∞)))))) close your eyes listen

LISTEN WITH YOUR EAR TO THE TREES OF OUR LANDS OF THE SOUL


∞)))))) connect breathe

BE TREE WITH THE TREES, ROOT WITH THE ROOTS OF THE TREES, BIRD WITH THE BIRDS, FOX WITH THE FOXES AND EARTH WITH THE EARTH


∞))))))) hug

A NEW CLEARING IS BORN, A NEW POEM. A NEW LANGUAGE WITH WHICH TO TELL YOU.
I HAVE EVERYTHING I NEED


︎ PREVIOUS WORK