FOTOPOEMES

2017 - present
.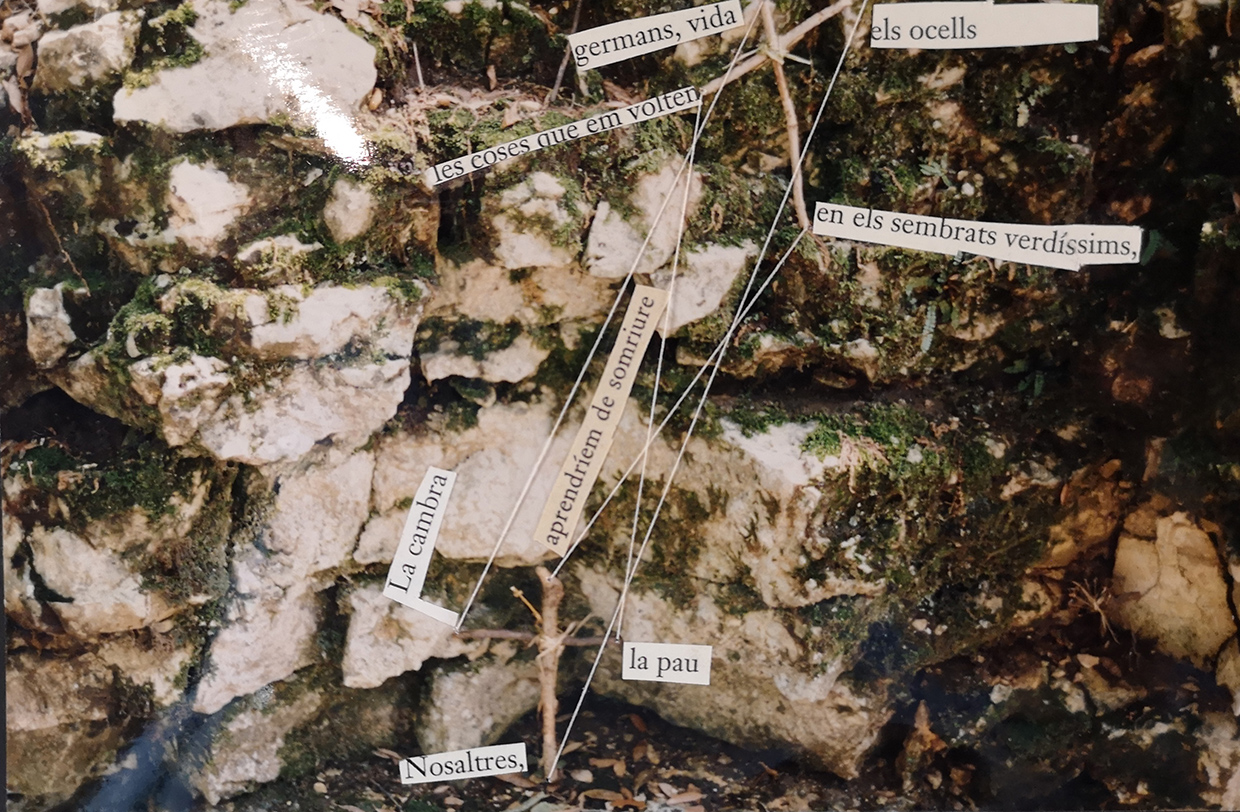 (CAT)
Els fotopoemes són una evolució de les desocupaccions del work in progress Kenosi. Evoquen l'estat de suspensió i alhora articulen una parla. Les imatges fotogràfiques d'aquest conjunt de petites obres són fotografies nostres acumulades per altres projectes pendents, així com les restes de Polaroids del 2011 per l'obra Clavells d'aire. Els textos són les restes conservades dels llibres que hem anat buidant des de 2005.

Les fotografies no són només els escenaris pels nous poemes. Van més enllà, esdevenen imatges eloqüents, amb la mateixa càrrega i potencial poètic que els fragments de versos suspesos damunt d'elles.

Des de 2017 hem anat elaborant fotopoemes com una rutina que ens centra i focalitza, com un exercici de meditació fluida, relacionant intuïtivament imatge i text, associant-los per pulsions, en un estat de suspensió entre el intel·lecte i la sensació. Així com les desocupaccions posen en manifest el buit, els fotopoemes són criatures nascudes de forma orgànica en aquest buit, sense programació ni disseny, en una dinàmica fresca i vital.

(ESP)
Los fotopoemas son una evolución de las desocupacciones del work in progress
Kenosi
. Evocan un estado de suspensión ya la vez articulan un habla. Las imágenes fotográficas de este conjunto de pequeñas obras son fotografías nuestras acumuladas para otros proyectos pendientes, así como los restos de Polaroids de 2011 para la obra Clavells d'aire. Los textos son los restos conservados de los libros que vamos vaciando desde 2005.
Las fotografías no son sólo los escenarios de los nuevos poemas, van más allá. Se convierten imágenes elocuentes, con la misma carga y potencial poético que los fragmentos de versos suspendidos encima de ellas.
Desde 2017 hemos ido elaborando fotopoemas como una rutina que nos centra y focaliza; como un ejercicio de meditación fluida, relacionando intuitivamente imagen y texto, asociándolos por pulsiones, en un estado de suspensión entre el intelecto y la sensación. Así como las desocupacciones ponen de manifiesto el vacío, los fotopoemas son criaturas nacidas de forma orgánica en ese vacío, sin programación ni diseño, mediante una dinámica fresca y vital.
(ENG)
Photopoems are an evolution of the work in progress
Kenosi.
They evade the state of suspension and at the same time articulate a speech. The photographic images of this set of small works are photographs accumulated for other pending projects, as well as the remains of Polaroids in 2011 for the Clavells d'Aire work. The texts are the preserved remains of the books that we have emptying since 2005.
The photographs are not just the scenes for the new poems. Going further, they become eloquent images, with the same load and poetic potential as the fragments of verses suspended upon them.
Since 2017 we have been working in the photopoems as a routine that centers us and focuses, as a fluid meditation exercise, intuitively linking the image and text, associating them with pulses, in a state of suspension between the intellect and the sensation. Just as kenosi reveal the emptiness, photopoems are creatures born organically in this emptiness, without programming or design, in a fresh and vital dynamic.